ECS Public Clocks
Before being re-named English Clock Systems Ltd. in 1939, the main business of Synchro Time Systems Ltd. was the installation and maintenance of public clocks. Many of these clocks no longer exist, but there are illustrations in old trade magazines. Here are some examples.
Magazine article dated 1939

Magazine article dated 1939




Notice that all these clocks have the Synchro Time Systems "Relyon" logo on the dial, and not the name of English Clock Systems.

Although ECS was formed in 1939, it seems likely that World War II severely restricted the company's development, and the old Relyon name and logo was still in use in 1945.

Magazine advert dated 1945

For how long was it in use?
If you have anything that might help date the use of this name, please see the Research pages.

Many of these public clocks would have been internally illuminated, and driven from the AC mains power supply by a synchronous motor.
TOWER CLOCKS
Larger public dials would have been powered by a turret clock mechanism similar to ones illustrated below.
| | |
| --- | --- |
| | |
| A Synchro Time Systems synchronous tower movement from an illustration dated 1939 | An English Clock Systems synchronous tower movement, probably from the 1950s |

A synchronous motor drives the large toothed wheel via a worm drive.There is a slipping clutch arrangement built into the toothed wheel which allows the hands to be set from the movement.
A rod would drive from the U-shaped brass cup connector on the movement to the motion work behind the dial.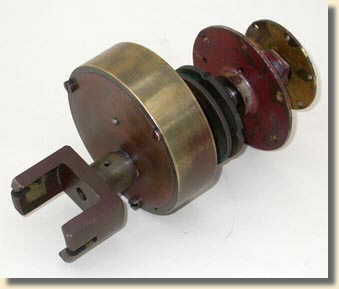 Motion work gear box.

The rod linkage from the movement connects with the U-shaped brass cup. The hands affix to the two larger discs on the right. The two smaller discs nearer the gearbox clamp either side of the dial.